NEW NEW NEW:
Premiere 16.10.2013, 20 Uhr, Hackesche Höfe Kino, anschließend Filmgespräch mit dem Regisseur auch 20.10.2013, 19 Uhr, Kino Brotfabrik & Filmgespräch Liste aller Spielorte und Filmgespräche mit dem Regisseur:
06.10.13. 17 Uhr, Braunschweig, Kino Universum, Preview
16.10.13. 20 Uhr, Berlin, Hackesche Höfe Kino, PREMIERE
17.10.13. 20 Uhr, Köln, Filmhaus
20.10.13. 19 Uhr, Berlin, Kino Brotfabrik
23.10.13. 19 Uhr, Weimar, Kino mon ami
26.10.13. 19 Uhr, München, Werkstattkino
29.10.13. 19 Uhr, Karlsruhe, ZKM, Baden-Württemberg Premiere 31.10.13. 20 Uhr, Saarbrücken, Kino achteinhalb
11.11.13. 19 Uhr, Bochum, Kino Endstation
21.11.13. 20 Uhr, Leipzig, Kinobar Prager Frühling
---
This is kinoglas' presenting
MAUERWEGSTAFETTE (Berlin Wall Relay)
at ACHTUNG BERLIN FILMFESTIVAL. IT's Gerd together with the composers and musicians Marko Schmitz and Christoph Mödersheim, as well as editor Henning Groß: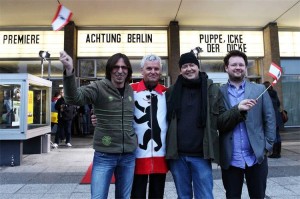 You can get the soundtrack here  - 100 FREE DOWNLOADS -
and you can get the whole thing!!!
MAUERWEGSTAFETTE – Berlin Wall Relay,
the FILM (88 mins) on DVD, only 12.50 €
(Incl. Tax & Shipment)
---
kinoglas was presenting
VideoVertov
in MFG-Ba-Wü's FILMFACTS – to be found at FOCUS 
GERMANY booth at Berlinale's EFM:

kinoglas-films says WELCOME!
here you will find everything concerning our new documentary project "VideoVertov" – a digital testament on 40 years of video – arts and movement. Read Gerd's Blog to find out, what's up and coming…. kinoglas-films heißt Sie Willkommen! Hier finden Sie Informationen über unser aktuelles Dokumentarfilm-Projekt "VideoVertov". Über die Geschichte seiner Entstehung und die fortlaufenden Arbeiten daran informiert Gerd Conradts Filmblog. Find the SECOND PAGE of the FILMFACT's article about VideoVertov at Gerd's BLOG.  
---
News!
Because of the actual situation and the financial crisis worldwide we have done a relaunch of our groundbreaking documentary about the Berlin bank scandal – you can get MONTE KLAMOTTE (Mount ever in RED) now ONLINE! For only 9 Euro you get the full english version PLUS two more documentaries about the bank crisis on DVD – just klick the button "Jetzt kaufen" and pay via PayPal:
In times of REVOLUTION – we have to admit that we too have documented the financial scandal – here in Berlin. One of our films, SAVE BERLIN! was shown in competition of the International Berlin Film Festival and the other one is called MOUNT EVER-RED (Monte Klamotte) – visit the website here  – and YES, we too go on the streets today October 15th in BERLIN: OCCUPY NOW – SAVE BERLIN! We LOVE manifestos – so here is the "Manifesto for regime change on behalf of all humanity"! UNITED FOR GLOBAL CHANGE – 15th October 2011! Occupy Berlin – impressions here and pictures from Hans Kuiper here.    
---
Come to "Vertov-Academy"…
In his BLOG Gerd tells today something more about video-activism and the Dziga-Vertov-Academy!
---
VideoVertov at ZKM
For his new documentary project VideoVertov filmmaker and videopioneer Gerd Conradt was visiting ZKM, the centre for arts and media at Karslruhe, Germany, the "Sistine Chapel" of Media-Art! Find more about at his Blog.
---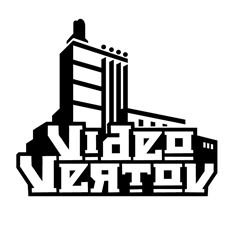 Design contest at www.designenlassen.de First designs for VideoVertov's title-graphics are online! … We're happy to get your feedback…
---
kinoglas-films
is a production company specialised in documentarys affiliated in Berlin and Hemsbach. Our new project VideoVertov was funded by BKM, MFG Baden-Württemberg and MBB. THANX!!! VideoVertov is a digital testament, a journey through 40 years of video. kinoglas-films is proud to have found the IDEAL partner for this heavy loaded footage-conversion-programme: ZKM Karlsruhe – they'll convert all the SD-tapes to HD-files. THANX!!! The digitizing has already begun – shooting will follow soon!
---
Other projects
Our relay along the Belin Wall "Mauerwegstafette" was shown August 13th! We're trying hard to get the whole round… There's a lot to do! And be sure – you gonna be a part of this global video movement as in the next step we are asking YOU to contribute!!!